H.D. Anyone studied literature at U.C. Santa Cruz. Her aspirations as an author are to entertain and encourage, to transport and transform. Her favorite genres are fantasy fiction and any horse story with a happy ending.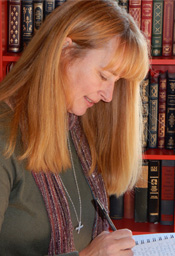 About the Author:
The Reverend Heather Dee Rose "received a call" to write a fantasy Christian trilogy during her confirmation ceremony in 2005.  After the laying on of the hands from the Bishop, she stood up, turned around, and in her mind's ear heard a voice she attributes to the Holy Spirit, directing her to "write of God's mercy."  It was from this command that The Parables of Ancient Earth became a twelve-year project culminating in a second call to become the priest of St. Paul's Episcopal Church, Tombstone, AZ.  The church is located one block from the O.K. Corral and was founded on June 18, 1882.  It is the oldest protestant church in Arizona conducting services for more than 135 years.  After having had the honor to serve for five years as Vicar of St. Paul's, Rev. Rose is currently the Chaplain for a spiritual order called The Order of the Daughters of the King in the Diocese of Arizona.
The trilogy for which she heard the call, was penned under the pseudonym H.D. Anyone, and Rev. Rose hopes the books will encourage each reader to seek their quest impacting not only the times in which they have been placed but also future generations.
Also authored and available through this site, are Rev. Rose's sermon books which resulted from a conversation with God on a bathroom floor.
In addition, check out her horse series for middle-grade/junior high/adults-who-are-still-kids-at-heart:  The Holly Nelson Narratives, which is a coming-of-age in the 70's series set in Northern Arizona with, of course, horses!  The first of the 5-part series, The Mustang and the Mountain, is out, and The Cattle and the Canyon will soon be released!
Last but not least, The Shimmering.  Rev. Rose refers to this young adult novel as:  "Paranormal with a Purpose."  Set in the old mining town of Jerome, Arizona, a teenage boy faces encounters with the afterlife while confronting and overcoming evil through the transformative power of forgiveness.
"Forgive and you shall be forgiven." –Jesus (Luke 6:37).