H.D. Anyone studied literature at U.C. Santa Cruz. Her aspirations as an author are "to entertain and encourage, to transport and transform." Her favorite genres are fantasy fiction and any horse story with a happy ending.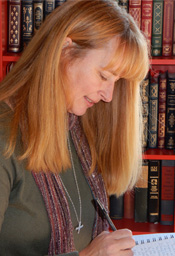 About the Author:
The Reverend Heather Rose received a "call" to write this fantasy Christian trilogy during her confirmation ceremony in 2005 from which The Parables of Ancient Earth became a twelve-year project culminating in a second "call" to become the priest of St. Paul's Episcopal Church, Tombstone, AZ.  The church is located one block from the O.K. Corral and was founded on June 18, 1882.  It is the oldest protestant church in Arizona conducting services for more than 135 years.   https://stpauls.azdiocese.org/
Penned under the pseudonym H.D. Anyone, Rev. Rose hopes the trilogy will encourage each reader to seek their quest impacting not only the times in which they have been placed but also future generations.